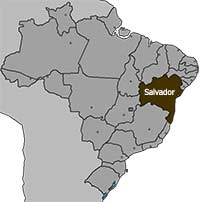 Salvador has approximately 3 million inhabitants, it is the capital of Bahia State and the city is famous for its historic and cultural monuments. The Pelourinho, or the historic center, as it is also known, is considered an UNESCO World Heritage Site. to vistit.
House of the largest Street Carnival in Brazil, the party in Salvador lasts for an entire week and gathers more than 4 million people. The local cuisine is famous for its spices, typical from the region. Along the famous dishes are the acarajé(deep fried peeled beans) and vatapá.
Moreover, the city has the main import and export long distance port in the Northeast. The main products imported through the port of Salvador are wheat and grain, food, chemicals, equipment, vehicles, malt and electronics. Major exports include chemical, petrochemical and steel products, automotive tire, granite, fruits and juices, cellulose.
The city's economy is dependent on the tourism and among the industry sector it has a oil refinery and a petrochemical plant.
Useful telephone numbers: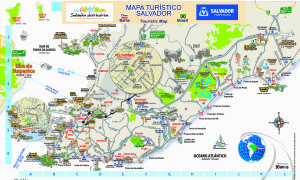 Emergency: 192
Fire Department: 193
Police: 190
Bus Station: (71) 3450-0333
Airport: (71) 3204-1010
Taxi: (71) 3277-7777 | 3341-9988
You can also check the website made by the state government to serve tourists by clicking here.
To apply for an internship in Salvador fill in the application form bellow.